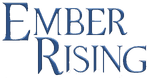 WARNING: SPOILERS FOR EMBER RISING ARE AHEAD; CAUTION IS ADVISED.
The Stone Sword of Flint is an ancient weapon that was owned by the father of rabbitkind, Flint.
The exact origin of Flint's sword is unknown, but there are different legends that describe how it came to be. One legend asserts that it fell from the sky, while another argues that it came from the stars. The rabbits of Harbone Citadel believe that Flint forged the sword from a falling star of unbreakable steel, or else freed the sword from within a meteorite.
In the hands of rabbits
Edit
Sometime after the sword was crafted, Flint wielded it in many battles, and it was handed down from generation to generation. With it he battled the first foe. It was given to King Whitson Mariner by King Gerard prior to the former's departure from Golden Coast and it was seen by Prince Lander.
The sword was aboard the Burnley as it sailed to a new home. After the Grimbles' betrayal, King Whitson Mariner laments the loss of the sword as well as the Stone Book of Fay.
After the Grimbles' defeat, everyone returns to shore. Whitson is approached by Mother Saramack, who directs him, Lillie, and Lander to the wreckage of Vanguard, where a crate had been found with King Gerrard's seal on it. Inside, much to their awe and relief, they find the Stone Sword of Flint. Quoting a prophecy, Lander murmurs, "We must do our part 'till the old blade is broken."
Emerson
tells
Picket Longtreader
of the sword's history. Emerson asserts that he believes the sword is hidden in the
Tomb of Lander's Dragons
, where only
King Jupiter's
heirs can reach it.